Who has attracted significant attention from the online community?
Let's take a look at the Top 10 Influencers who garnered the most interactions in May.
Leading the Top 10 is M-TP, a male singer who attracted over 14 million interactions when he released the music video for "Making My Way." The video featured Sơn Tùng dueting with TikToker Ytiet, dancing to the song "Making My Way," receiving numerous supportive comments from both the singer's and the popular TikToker's fans.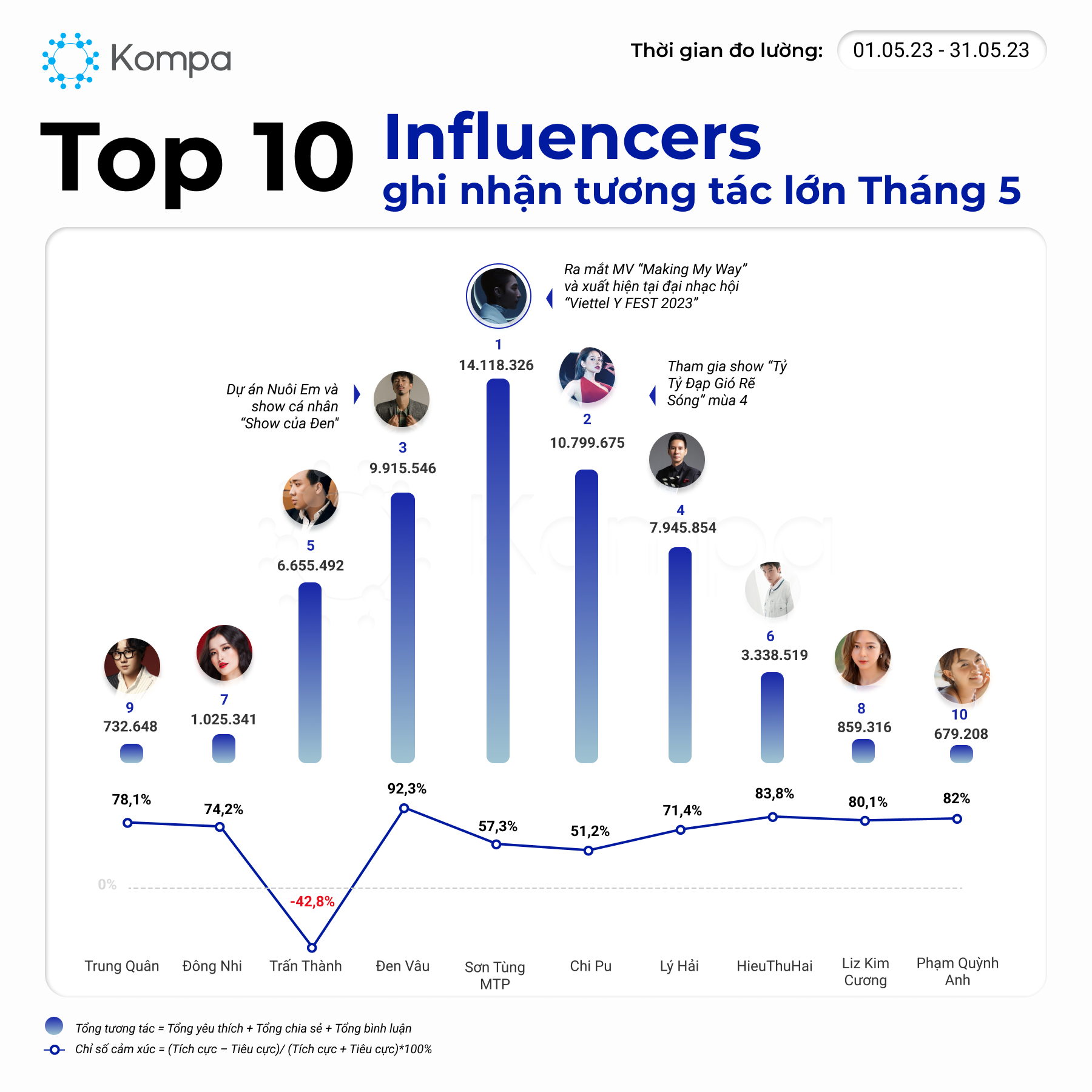 In the second position, Chi Pu attracted over 10 million interactions when she participated in the show "Tỷ Tỷ Đạp Gió Rẽ Sóng" with a performance of her hit song "Đóa hoa hồng." Additionally, the community discussed her interactions with team captains Amber Liu and Ella.
Đen Vâu secured the third spot with over 9 million interactions, drawing the community's attention to the charitable and meaningful project "Nuôi Em". Each individual could contribute to provide a safe environment and adequate facilities for children in remote areas to attend school and have proper meals. Furthermore, the rapper received significant interactions from "Show của Đen", attracting a large audience.
Singer and Director Lý Hải received over 7.9 million interactions, thanks to the continued popularity of the movie "Lật Mặt 6." There was a heartwarming moment when a female fan expressed her disbelief at encountering the entire film crew at the cinema, resulting in the highest interaction rate of over 1.1 million. The female fan continuously exclaimed, "Chú ơi chú ơi" in amazement upon meeting the singer and the actors from the film crew.
MC Trấn Thành garnered over 6 million interactions by participating in various top entertainment shows such as "Rap Việt" Season 3 and "Người Ấy Là Ai" Season 5. Additionally, there were numerous interactions regarding the male MC in JVevermind's vlogs about him. The community's emotional sentiment towards the male MC was relatively low, at -42%, stemming from negative discussions surrounding controversies during the "Hào Quang Rực Rỡ" (Brilliant Glory) press conference and film premieres, as well as discussions about his personal life.