International Women's Day on March 8th led the social media trends with over 10.3 million interactions. The interactions came from posts such as Anh Tú's "Siêu Ghiền Vợ meets Siêu Sale 3.3," Bảo Thy's "Corset Latex Choice," Tizi Đích Lép's "Believe in Women's Intuition and Equality," along with campaigns by GrowPLUS+ NutiFood – "Mother, do you know how you are in your child's eyes?" PNJ – "Minigame sharing love not everyone knows," Lazada – "8/3 GIVEAWAY BIG GIFTS Minigame," and Gojek Vietnam – "Send 8/3 gifts uniquely with GOSEND." The highest interactions were recorded from posts by large communities like Trường Người Ta – Extracurricular Activities on 8/3," "Ngot nhu glucozo -Điều anh muốn là luôn thấy em cười, and Theanh28 Entertainment – Bus driver spends his own money to buy gifts for female passengers on March 8th."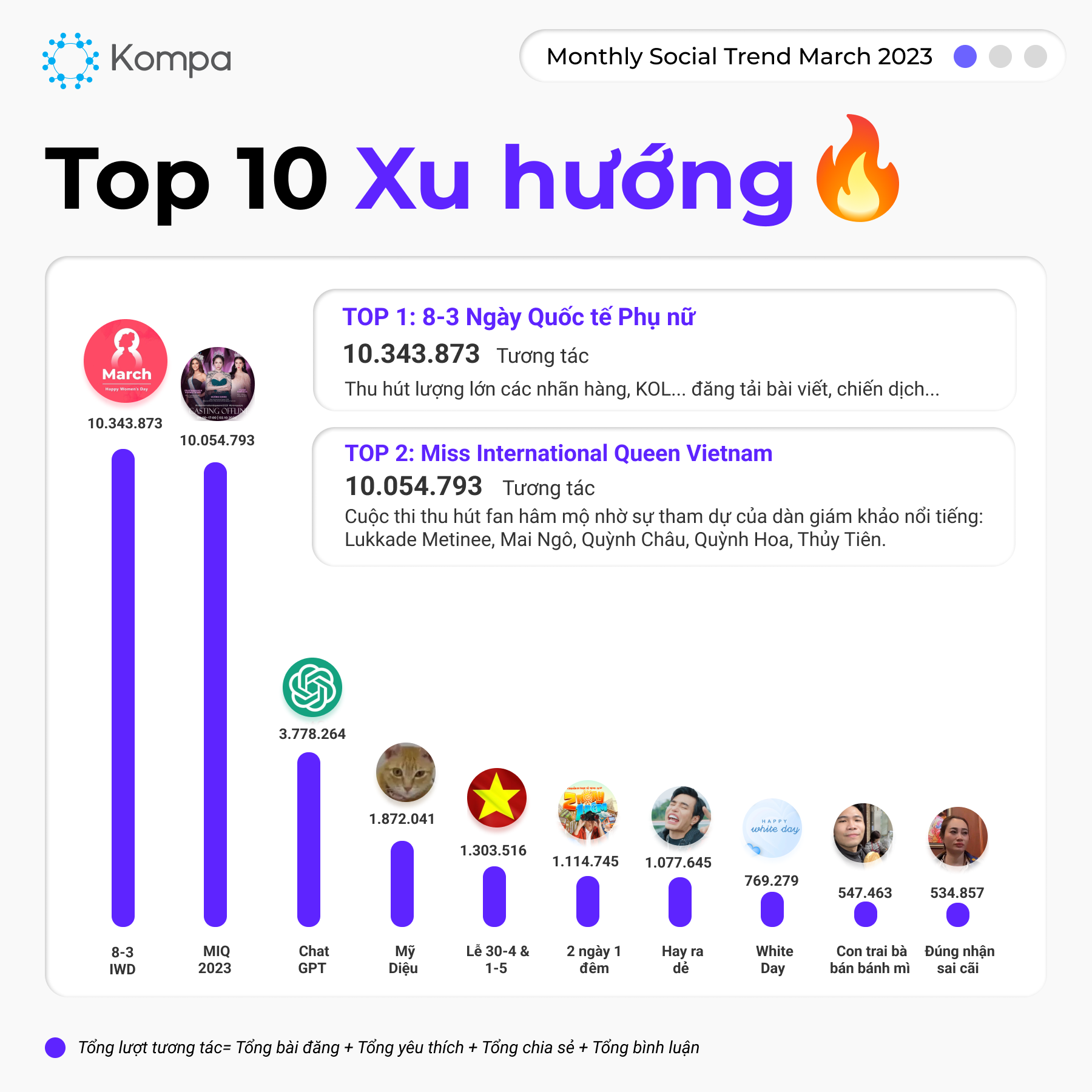 The Miss International Queen competition reached the Top 2 trending on social media. The competition attracted fans due to the participation of famous judges, including Lukkade – Metinee Kingpayome, Mai Ngô, Chế Nguyễn Quỳnh Châu, Bui Quynh Hoa, and Huỳnh Phạm Thuỷ Tiên. The hot topic of discussion was the intense debate between Mai Ngô and Quỳnh Hoa when selecting contestants for the next round.
PNJ's #MyQuyen #KhongKhuonMau campaign ranked among the top 5 notable communication campaigns of the month. The total discussion recorded over 484k interactions through the competition, sharing the most ĐẸP NHẤT, TỰ HÀO NHẤT moments about the women you love.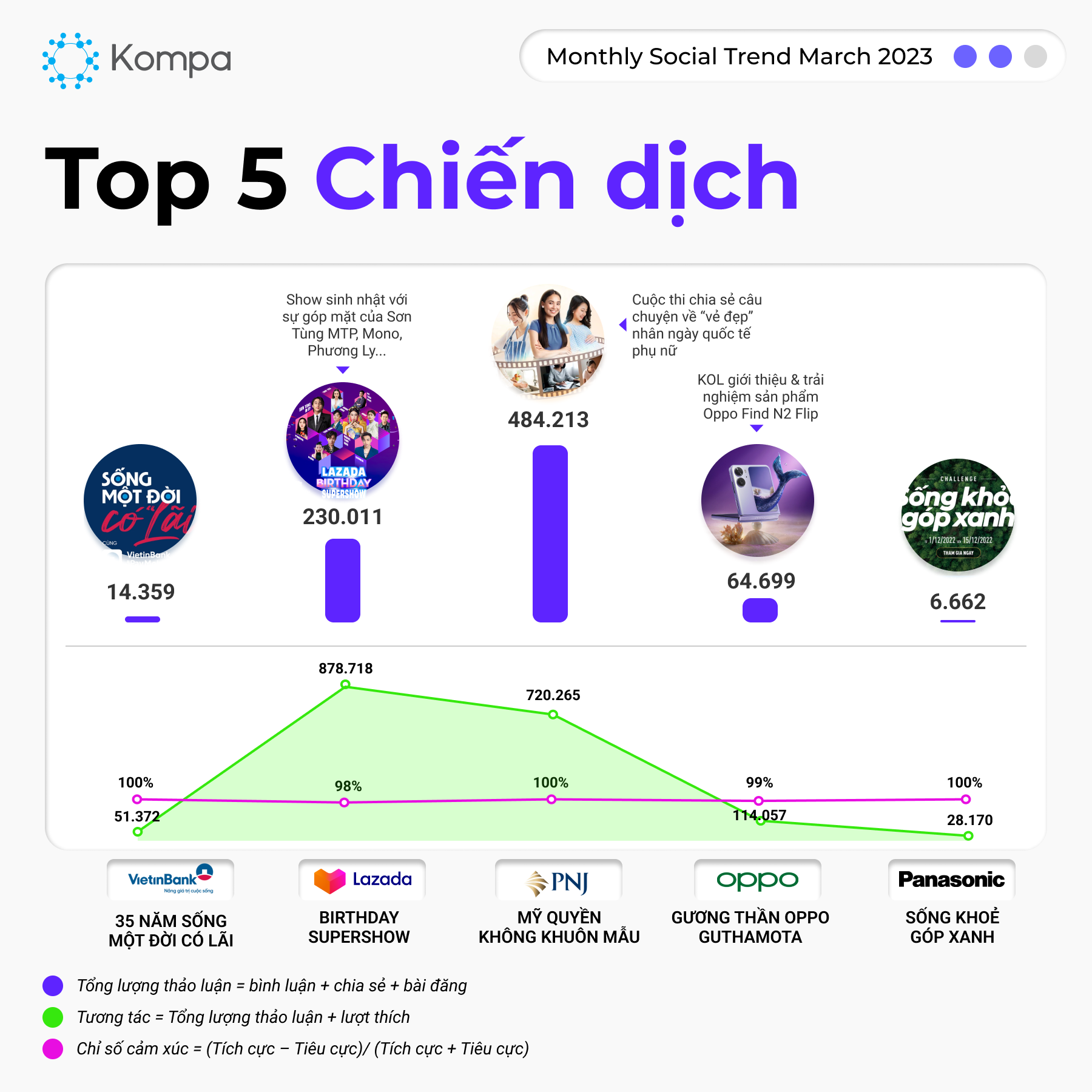 Lazada attracted over 230k discussions with the Lazada Supershow – Explosive Birthday Show event. The live show featured many famous singers and artists like M-TP, Mono, and Phương Ly. The performance of Sơn Tùng went viral on TikTok, receiving praise from fans.
OPPO launched the new product "Gương thần Oppo Guthamora – OPPO Find N2 Flip," which garnered significant attention from the community. Numerous introductions and reviews from KOLs, KOCs, and celebrities helped the brand attract over 64k discussions.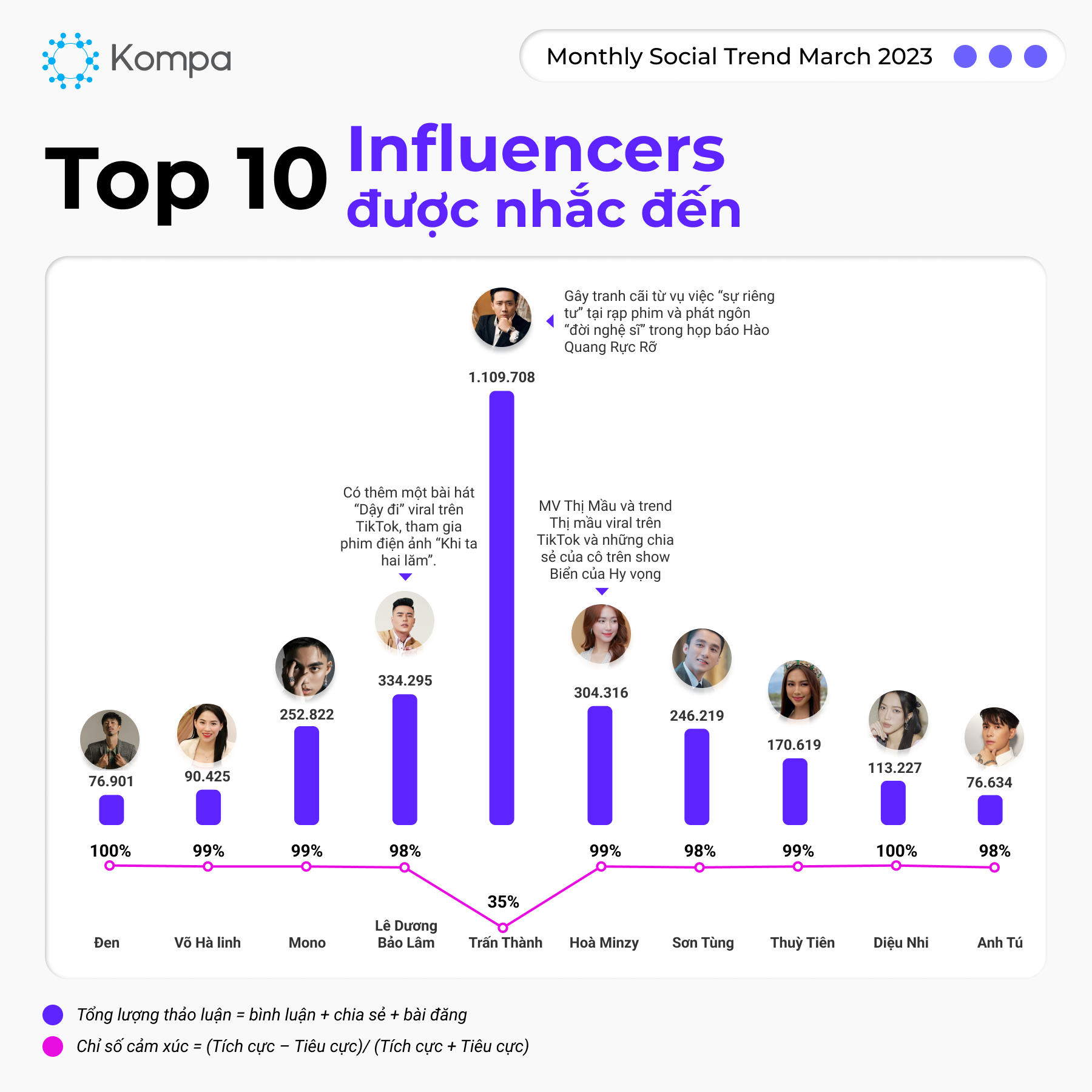 Trấn Thành was the most mentioned in March, with various contrasting opinions surrounding an incident at a movie theater and his statement about "the artist's life" during the Hào Quang Rực Rỡ press conference.