Analyzing and following social media activity requires tracking and identifying keywords in social listening. Keywords are crucial for understanding customer opinions and feedback, gauging the success of marketing campaigns, and spotting significant trends and problems in the online community.
Let's read the article below to discover more about the significance of keywords in Social listening.
What are the Social listening keywords?
Keywords have long been a crucial component of Marketing. We are all aware of the idea of keywords in SEO, or Google search engine optimization. Keywords have a big role in social listening. Consider that each and every word written on News, Websites, discussion Forums, and Social media platforms provide insightful information. To filter relevant information for the Brand, Social listening will be based on keywords.
Why is the use of keywords so crucial in Social listening?
All Social listening monitoring tools are built on keywords.
According to the concept of "Social listening," each post or comment made on Facebook pages, forums, or news counts as one discussion. Discussions contain many keywords related to the Brand or topics that network users are interested in. The Social Listening system carries out measurement and analysis by compiling all talks including keywords and examining the volume, tone, source, and most prominent posts. The system cannot undertake precise and comprehensive measurements without particular keywords. Therefore, the basis of all Social listening tools is keywords.
Social listening evaluates and quantifies data and emotion from keywords.
Every conversation has its own facts and feelings. This emotion reflects the tone of discussion through keywords. Through analyzing and understanding natural language and Vietnamese identities constantly created by online users, the Social listening system from Kompa provides an accurate assessment of the emotions of the discussion. This is an important insight in the process of understanding consumer tastes, industry trends, and analyzing competitors' strengths and weaknesses.
Keyword represents brand difference, social media campaign
Brand name and keywords in the Brand's communication campaign such as hashtags and taglines are important keywords in measuring Social listening. Because of the difference in brand names and communication campaigns, related keywords will also carry that difference. These keywords help measure brand awareness and the effectiveness of social media campaigns.
Using the appropriate keywords enables thorough and accurately to social network discussions
Social listening is effective when the brand lists a full list of keywords that need to be measured. The keyword list includes a variety of keyword variations in addition to the precise term. The next article will go into detail on how to create a keyword list as well as which keywords brands should not overlook.
Up-to-date keyword information on rivals and social network trends to better understand tastes and markets
In addition to keywords about brands and brand communication efforts, the keyword list also benefits brands by adding keywords about rival brands and current online user interest patterns regarding the market and rivals. From there, there are new ideas in media content, keeping up with industry trends.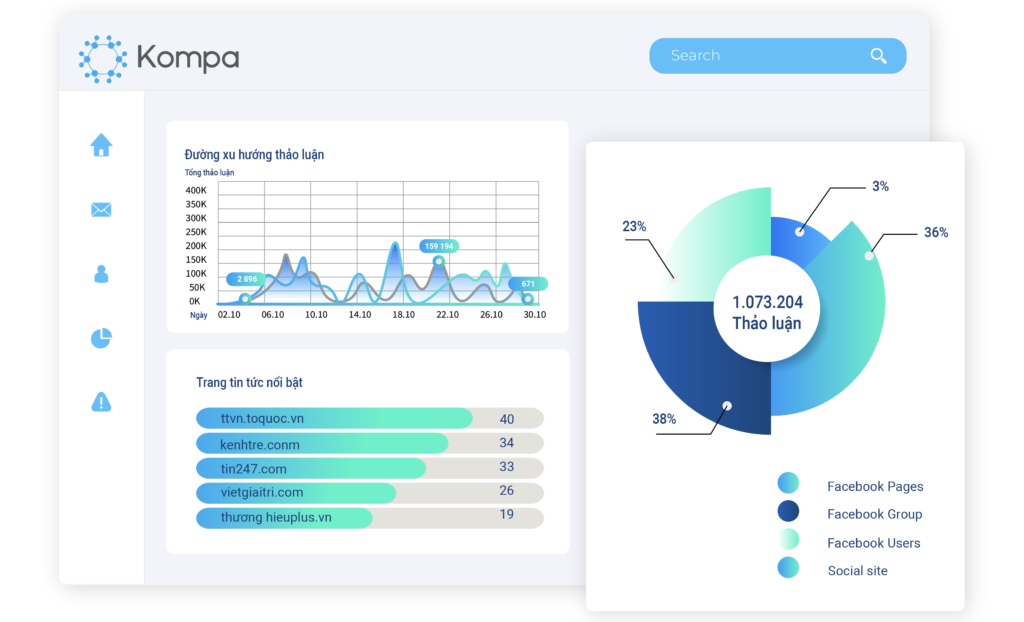 Understanding the value of keywords in Social listening enables brand managers to more successfully use this tool to assess the online health of their brands, evaluate the success of their social media campaigns, and identify interest trends in the online community in order to generate ideas for content that will appeal to the right demographics.
Kompa is a company that applies data technology (AI, machine learning) on a big data platform, providing data analysis solutions and equipping customers with valuable "insight" for optimizing their business operations in many aspects such as Marketing, Finance, Operations and other areas. Since more than 20 years ago, Kompa has accompanied hundreds of small and medium-sized businesses in Vietnam, including Vingroup, Masterise Homes, Vinamilk, SSI, MB bank, Tan Hiep Phat, Shopee, and Vietjet Air… With the capacity to quickly and fully automate the collection, analysis, and process of information, Kompa becomes a strong partner of Businesses.
Currently, Kompa offers a variety of solutions to assist organizations in making the most of market data and encouraging business growth:
Social listening
Brand Reputation Management
Campaign Effectiveness Measurement
Brand Advocacy in the Community
Integrated Market Research
Digital Data Center