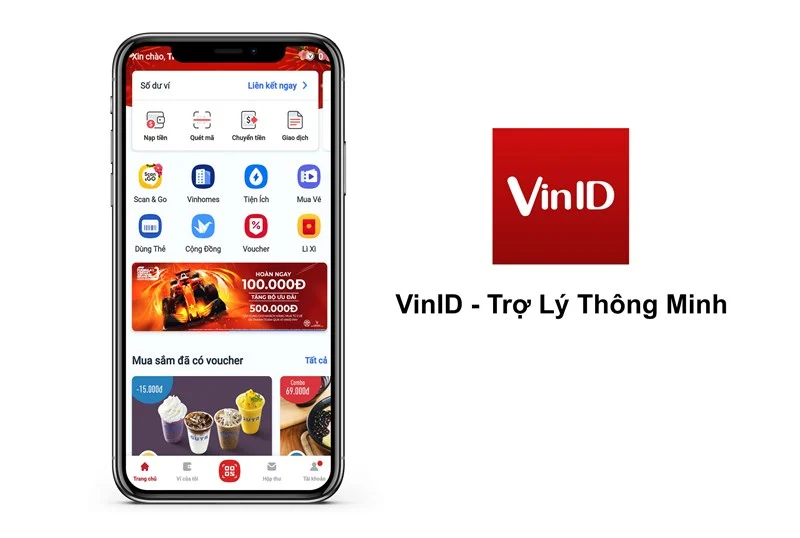 As a super app with the vision of "becoming a smart assistant for the Vietnamese people," VinID aims to quickly update the trending features that users love in smart applications for shopping, payment, and food ordering. Additionally, VinID seeks to enhance the user experience on its current app by directly listening to brand discussions on social media.
To help VinID achieve this goal, Kompa provides a solution for measuring brand health on social media regularly every month. This helps expedite the process of making VinID one of the most popular smart applications in Vietnam.
Let's take a look at the data on the trends in smart app usage to research social media feedback and user experiences on the app. The data is part of the periodic Brand Health Check report collected from August 1st to August 30th, 2022.
Retail Discussion Trends
Top 4 Notable Retail Apps
VinID, F99 Vietnam, TikiNGON, and Grab Mart are the four most-discussed retail-related applications. VinID accounts for 10% of the total discussions with its "Shopping Guide" program for a joyful Mid-Autumn Festival deal hunt. TikiNGON and GrabMart respectively contribute 21% and 24% of the total discussions through interactive mini-games and partner fanpage mentions. F99 Vietnam dominates 45% of the total 4,729 discussions through live selling livestreams on the application's fanpage.
Top Discussion Channels for Retail Apps
The majority of discussions come primarily from Facebook, including Facebook users and Brand Fanpages. In addition, discussion occurs on forums and news channels as well. VinID receives 81.3% of discussions mainly from Facebook users, with 7.8% on their Fanpage. TikiNGON gets 85% from Facebook users and 14.5% from their Fanpage. F99 has 100% of discussions concentrated on their Fanpage.

Sentiment of Retail App Discussions
The discussions about retail applications exhibit predominantly positive and neutral sentiments:
VinID has 20.2% positive discussions and 74.6% neutral discussions from its Mid-Autumn Festival program.

F99 attracts positive and neutral discussions through product promotion livestreams.

TikiNGON has 48.3% positive discussions and 51.6% neutral discussions. Community groups like "Mê TiKi" primarily attract positive and neutral discussions, especially in mini-games.

GrabMart receives 34.1% positive discussions and 46.3% neutral discussions through mentions in partner posts, particularly from Top Market.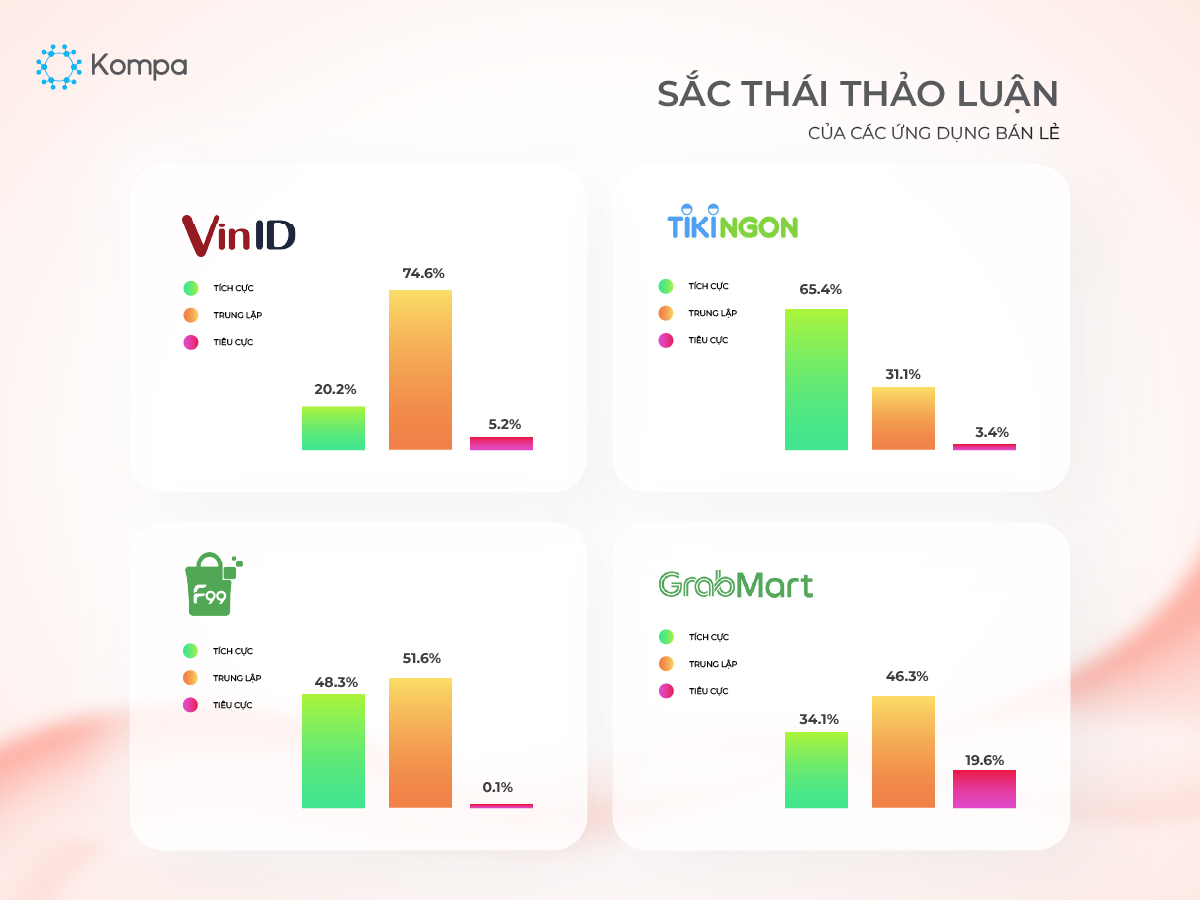 Promotional Voucher Discussion Trends
Discussion Sentiments about Apps with Promotional Vouchers
VinID achieved a 96.6% positive rating, Momo received 69.2%, Shopee had 50.2%, and Grab received 47.3%.
VinID received positive feedback from the Panasonic brand's livestream series, with users actively participating in the livestream to receive VinID vouchers. Grab received discussions regarding the issue of unchanged fares when fuel prices were trending downward. Momo received both positive and neutral feedback when offering vouchers for various special sectors such as travel and food and beverages. Additionally, the application received user feedback on login issues, page loading problems, and system updates.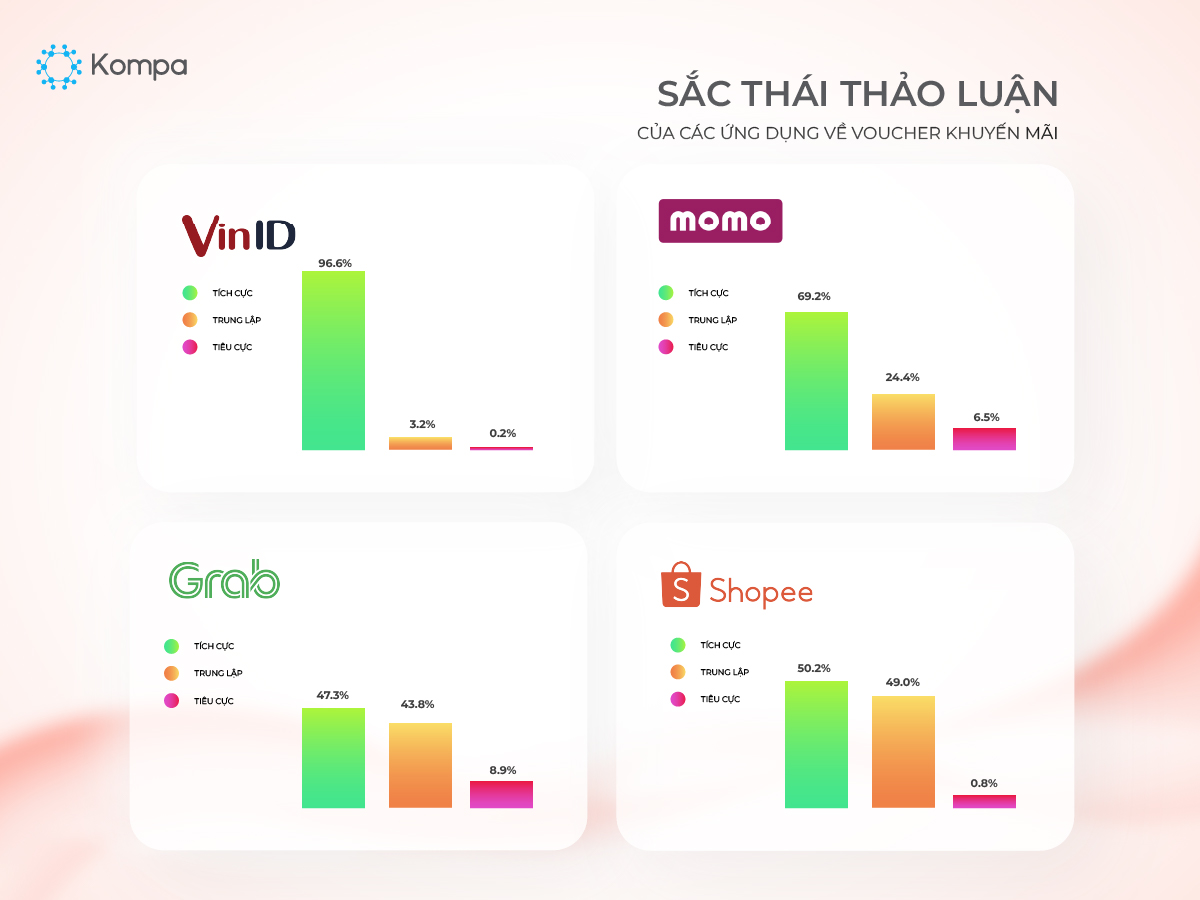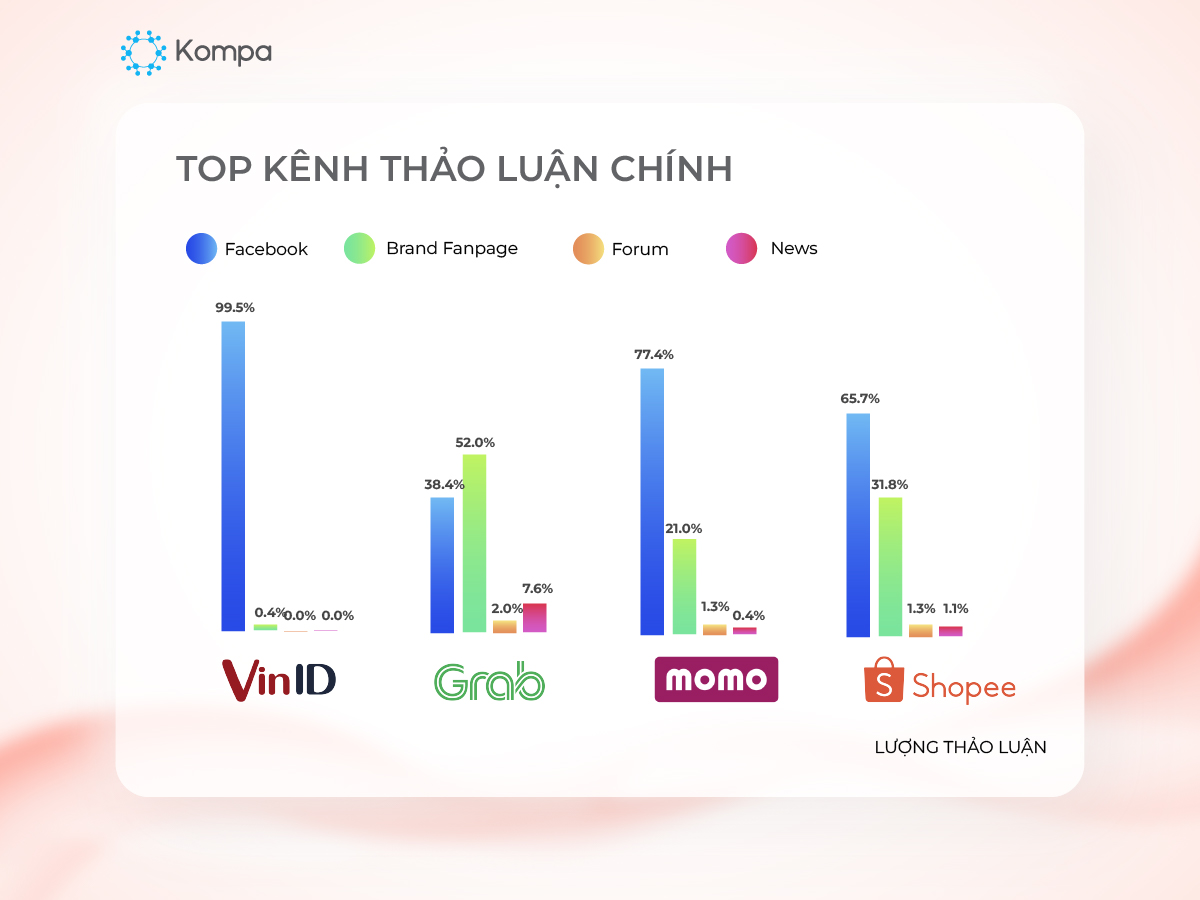 Top 4 Prominent Voucher Promotion Apps
VinID, Momo, Grab, and Shopee are the top four apps that users mention when discussing the topic of promotional vouchers. VinID and Momo each receive an equal share of 17% in the total of 146,546 discussions. The livestream program on Panasonic's YouTube channel is a prominent topic that attracts discussions for VinID, while Momo, Grab, and Shopee generate discussions related to the brand's mini-games.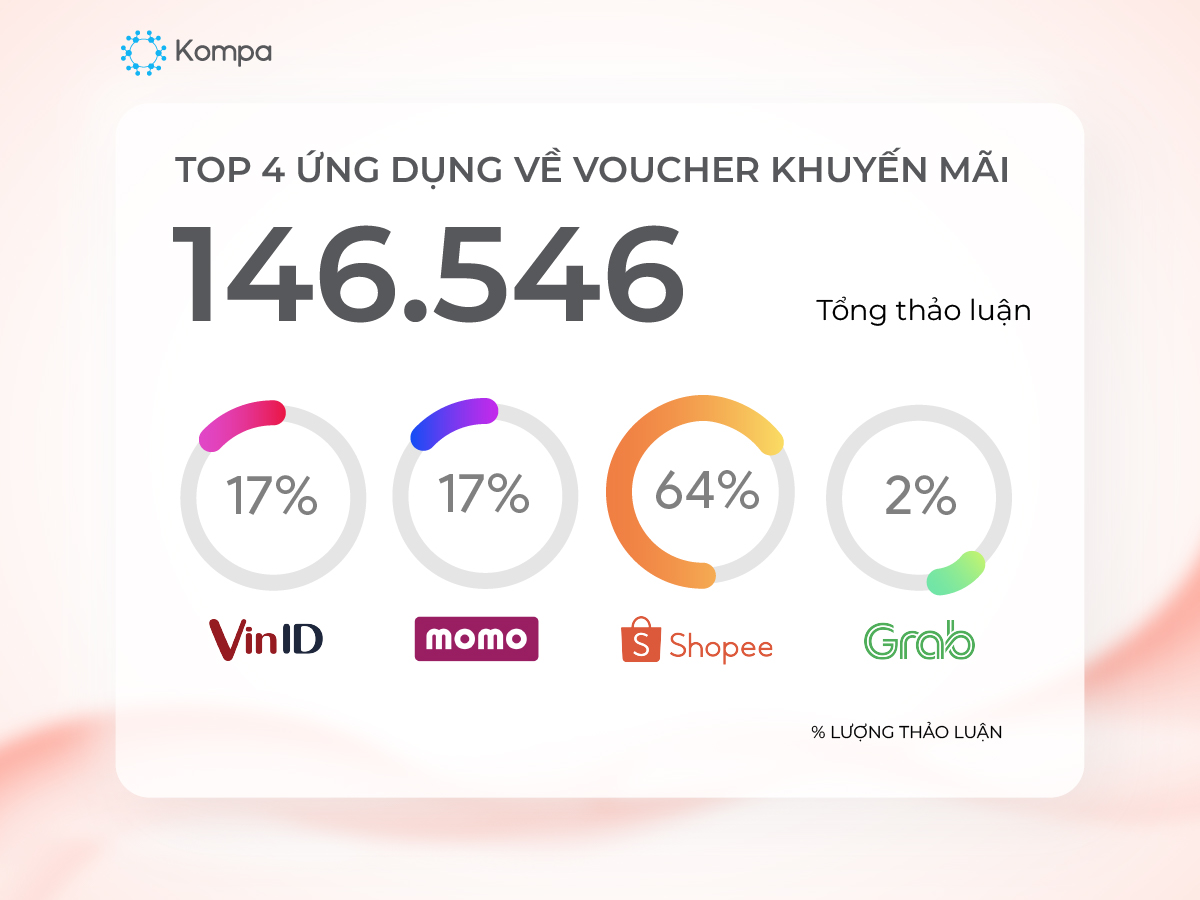 Top Discussion Channels for Apps with Promotional Vouchers
Facebook serves as the primary channel for discussions, with some discussions coming from brand fanpages, forums, and news channels. VinID receives 99.5% of discussions from Facebook. Grab primarily engages discussions on its brand's fan page.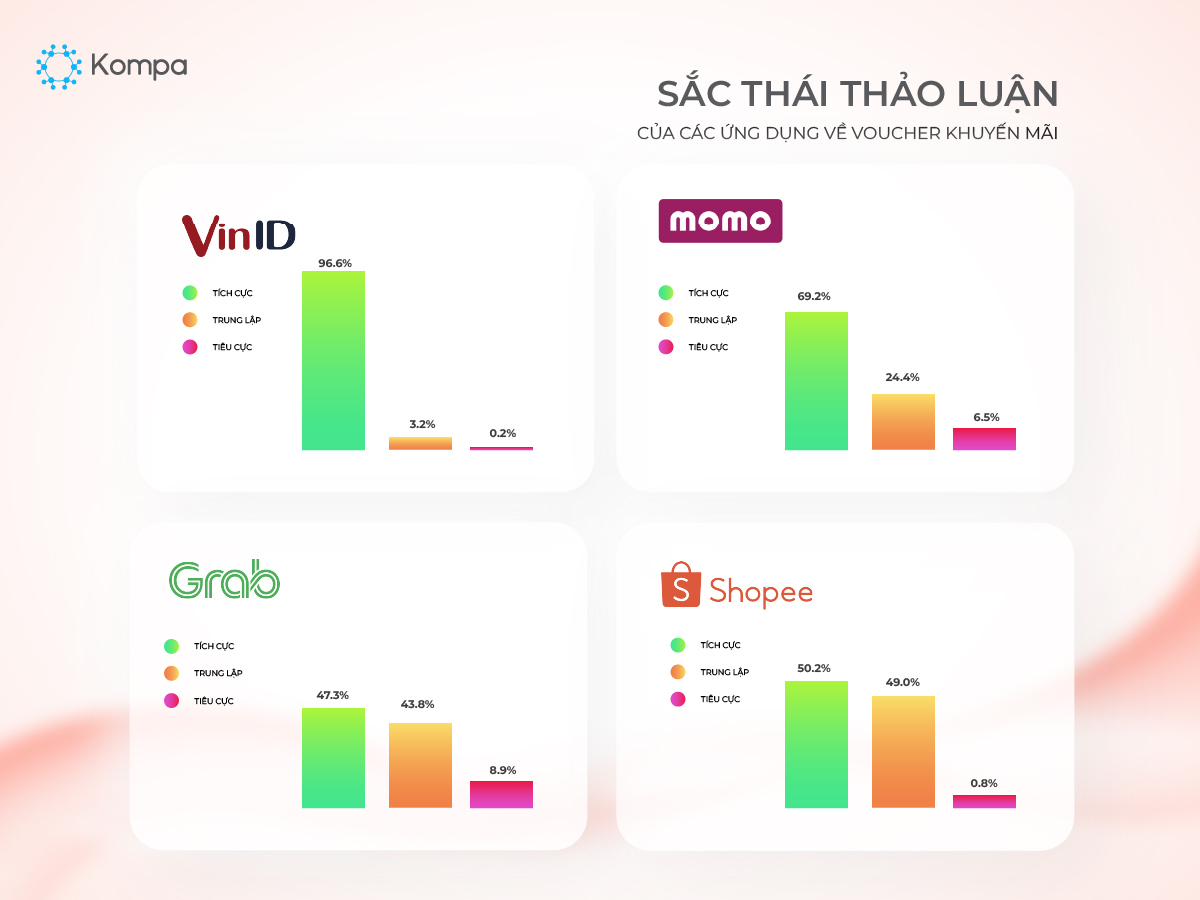 Overview of Consumer Feedback on VinID in August
Overall, VinID receives positive feedback from consumers in August, with a total of 26,066 discussions, 96% of which are positive. This positive sentiment is driven by engagement activities, such as the 500k voucher promotion in partnership with Panasonic, as well as promotional programs in supermarkets during the Mid-Autumn Festival. The exclusive launch campaign of the NOOA T-Shirt in collaboration with Sơn Tùng attracts significant discussion from the singer's fan community and receives positive feedback from users.
Conclusion
Through regular Brand Health Check reports, brands can swiftly update themselves on usage trends, topics of interest, channel allocation, and negative feedback in user experiences. This helps identify areas for improvement in products and services. Understanding consumer needs and continuously enhancing product quality and service experience are crucial for brands to quickly capture the market.